By Lori Heffelfinger and Vikki Dorsey
Meetings - Love Them or Hate Them?
Meetings are often the subject of many jokes. Hours are wasted in poorly run or unnecessary meetings. Yet when they are facilitated well, meetings can be an important forum for hashing through difficult concepts and making good decisions. So how can you ensure that your meetings are not the source of someone else's grief and frustration?
Covid-19 World
In our new world many teams are divided. Employees who commonly work in the office are now setting up makeshift workspaces in their homes and juggling the demands of family and work. How do we use meetings to reconnect with our employees and create a healthy forum for human connection?
Today's circumstances offer us an opportunity to break the rules and rethink how we've always done things. Is there a meeting that has been on your calendar every Tuesday at 9am since you can remember? Is it a waste of your time? Does little actually get done? It is a great time to look at your calendar, rethink the meetings you host and the ones you join to ensure you and your team are making the most of your day.
Helpful Meeting Tips
Some tips to help you and your team rethink your meeting(s):
1. Focus your team. Pat Lencioni and his Table Group recommend that all teams have a "rallying cry." It is meant to inspire and focus our time on what matters most right now. What is your team's most important challenge to rise to? All of your meetings should be focused on the "rallying cry" to align and inspire your team. To learn more, pickup Lencioni's bookThe Advantage.
2. Virtual meetings. By now, even your preschooler is probably using an online platform with their classmates. If your team is dispersed, then get creative with your virtual meetings. Use video conferencing platforms like Facetime, Zoom, Skype, Cisco WebEx and all the rest to conduct your meetings. Have everyone check in with one another with personal updates. People need to feel connected now more than ever. Your meetings can be a great forum to engage with your teammates.
3. Get creative. Invite your colleagues to host elective "meetings" to give people a social outlet. Consider a lunch time call to enjoy a break together virtually or schedule a "Happy Hour" to get employees to unwind together after work before they reenter their "home life."
4. Cancel them! Don't be afraid to cancel meetings that are no longer relevant. If your meeting's only purpose is to share information, send an email and save everyone the time.
5. Shrink them! If you can't outright cancel the meeting, shrink it! Make certain only the most important items make their way to your meetings. If your meeting normally lasts 90 minutes, see if you can shrink the time commitment and get the important work done more efficiently. More focused, quick, strategic and tighter meetings might be just what your team needs to engage and be effective.
6. Schedule them! No, we're not losing our minds. Yes, you should schedule meetings that are relevant and helpful. For example, schedule time for your team to see one another, literally, while they debate important challenges to reach better decisions.
7. Stand up! If you and your team are still working in the same location, try having a standing meeting. Discuss what you need to and dismiss everyone to get to work.
8. Create an agenda. Whether you are conducting your meetings face-to-face or online, the best meetings have focus. Build an agenda in advance and give others the opportunity to contribute to it before the meeting. Make sure that there are action items on it and you're not just sharing info. Topics should include action-words like debate, discuss or decide.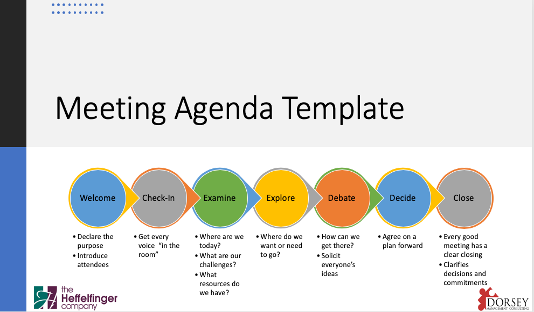 Note this template works for small meetings with small goals and big meetings with big goals.
At Dorsey Management Consulting, we help our clients learn new skills and expand their leadership capacity to better lead their organizations into the future. We help leadership teams learn how to work together more effectively and efficiently, enabling them to make sound and timely decisions in pursuit of achieving greater success. We partner with our clients to design and build succession plans and develop their future leaders. We coach executives to achieve higher self-awareness and be more effective leaders of people. We do this in service of learning, helping each of our clients become better versions of themselves and achieving organizational goals.Learn more at www.dorseymc.com or contact the author directly at vikki@dorseymc.com.